Above: Cabo Hilton
In 2014, Hurricane Odile slammed the upscale Mexican beach resort of Los Cabos, and while claiming no lives, it damaged and ultimately shuttered every oceanfront property.
The upside?
Mandatory renovations and upgrades for every hotel in this fabled resort town beloved by the likes of Justin Bieber, Lady Gaga, Selena and Jennifer Aniston and many other Hollywood's celebs.
Tourism figures continue to spike upward, and about 20 all-new hotels, resorts and residences are in various states of construction.
Now that Los Cabos — a k a the sun drenched sibling cities of rowdy Cabo San Lucas and comparatively chill San Jose del Cabo — is booming, which refreshed/re-imagined property is best for you?
Here are six options to choose from.
ME CABO
Photo: Meliá Hotels International
Re-opened: March 2016
Ideal for: Party people; bros; beachcombers; bachelorettes; Terry Richardson
Rates from: $360
The details: Los Cabos' most St. Barts-y offering — a Blue Marlin Ibiza beach club takes up residence this November — is smack dab on lively Medano Beach. A $15 million overhaul saw ME go white, powder blue and futuristic-nautical in look, with a swim-up pool bar and crowning DJ booth. A monthly blowout draws local fiesteros (party people), trendsetters and, admittedly, "Entourage" central casting ("It's a bro-tel," one friend commented), while the ME's beach and poolside daybeds are Los Cabos' most hotly desired. Peruvian cuisine and solid pisco sours rule at TullPu restaurant, and the Yhi Spa boasts a traditional Mexican temazcal to sweat out post-party toxins.
ONE&ONLY PALMILLA
Beach peeps enjoying the waves. Photo: Courtesy of One&Only Palmilla.
Re-opened: April 2015
Ideal for: Sublime luxury; wellness; lush nature; celebrity spotting; pampered pets
Rates From: $455
The Details: Of Los Cabos' Holy Trinity of uber-exclusive resorts — others being Auberge's Esperanza and Rosewood's grand dame Las Ventanas — the 174-room One & Only was first to reopen. A European-influenced, neutral tone color and design scheme replaces a previously traditional, Hacienda-style. Newly fortified restaurants, lounges, and bars include Jean-Georges' impeccable steakhousare Seed and sushi-ceviche venue Suviche. There's a pet concierge and spa, two beaches (the swimmable Pelican and swimming-unfriendly Turtle), a dreamy and earthy spa, and adorable O&O mascot, Priscilla the Odile rescue turtle.
GRAND SOLMAR LAND'S END RESORT
Bed up at Grand Solmar Land's End.Photo: Courtesy of Grand Solmar
Re-opened: January 2016
Ideal for: American home comforts; sports fans; fishing; picky young eaters; less adventurous extended family members
Rates from: $360
The Details: Mexican design and granite cliffs and spacious rooms measuring 737 to 6,232 square feet come together at this family-friendly, 137-unit resort. Post-Odile additions include a sports bar, expanded lobby, fitness center and a dramatic cliffside Sea Spa with elevated cabanas overlooking the ocean and Solmar Beach. There are dedicated pools for adults, all ages, and kids, while food and beverage offerings are geared to picky, unadventurous American palates (e.g. crispy tacos). Bonus: Marina Cabo San Lucas and the nightlife scene are a 10-minute walk.
THE RESORT AT PEDREGAL
The Estrella Suite.Photo: Courtesy of The Resort at Pedregal
Re-opened: January 2015
Ideal for: Foodies; urbane families; wellness; romance
Rates from: $375
The Details: While its association with the ultra-luxe Capella brand ended with Odile, the 7-year-old, 110-room resort maintains its dramatic 1,000-foot entry tunnel, a cinematic tricked-out spa, relaxing atmosphere, unique live music, a convenient five-minute walk to the marina, and some of Los Cabos' best on-property dining. Clamored-for al fresco cliffside restaurant El Farallon features a new Champagne bar where you can pair artisanal salts (e.g., charcoal, alaea) with 15-plus bubblies to enhance flavor notes.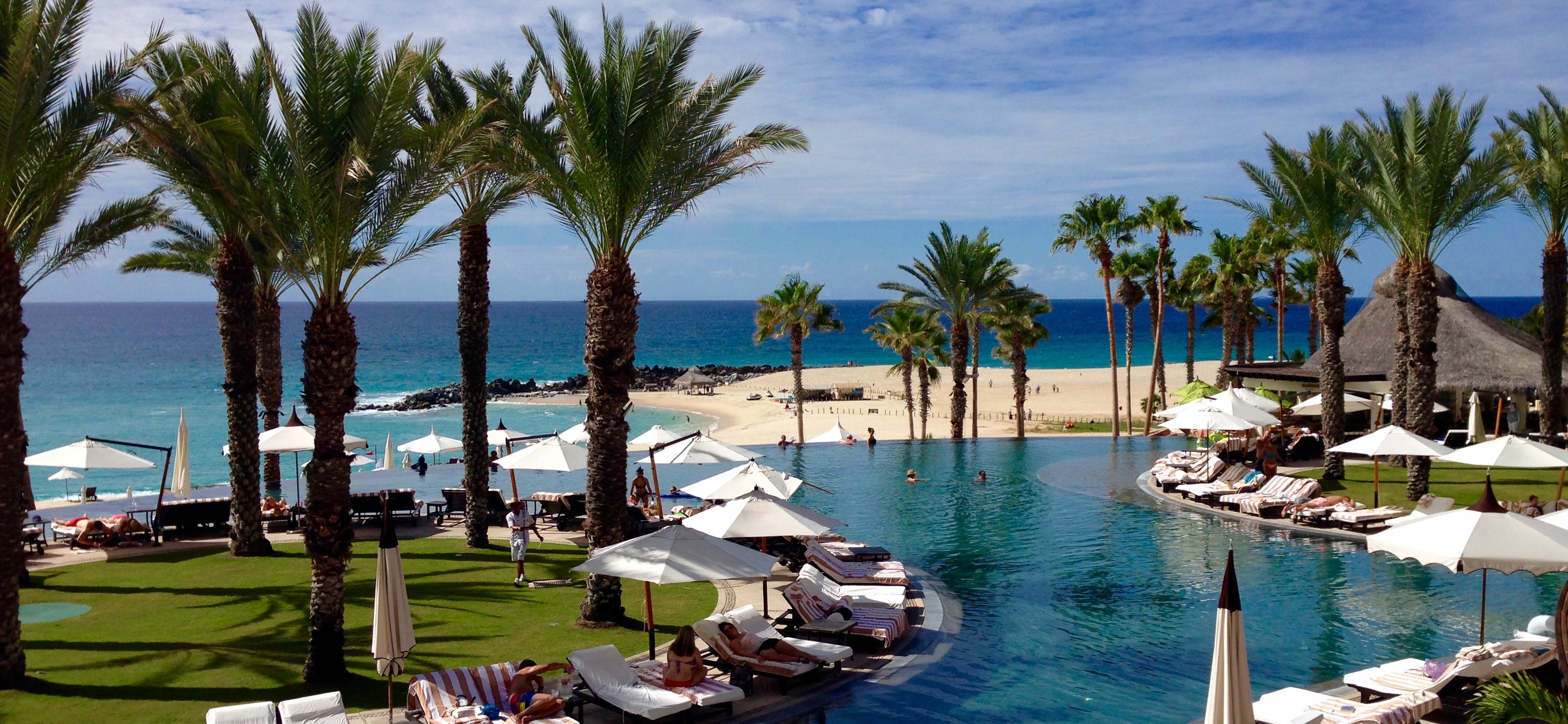 HILTON LOS CABOS BEACH & GOLF RESORT
Shack up at the Hilton Los Cabos.Photo: Hilton Los Cabos Beach & Golf Club
Re-opened: November 2015
Ideal for: Families; golfing; relaxed beach time; wellness programs; organic cuisine; spa
Rates from: $249
The details: Utterly decimated by Odile – 80% of its rooms were destroyed – the 375-room Hilton smacks of glossy newness, with a chilled-out, swimming-friendly beach, Playa Bledito, Los Cabos' bluest waters, and prime views for whale watching in winter. For wellness, enjoy free yoga classes, spinning equipment, bikes and scenic Cabo Real trails, and Mexico's first Eforea Spa.
Golf courses include adjacent Robert Trent Jones II-designed Cabo Real, and Jack Nicklaus' 180-acre Cabo Del Sol, and little ones keep busy with Cabo Kids program and club. Culinary offerings are tasty, fresh and farm-to-fork healthy/organic: Restaurant Azul lays claim to Los Cabos' most extensive tequila list.
HOTEL EL GANZO
Outside the Ganzo.Photo: Courtesy of Hotel El Ganzo
Re-opened: October 2015
Ideal for: Hipsters; honeymooners; music/film/art fans; tranquility on the marina in San Jose del Cabo (Puerto Los Cabos) not to be confused with the Cabo marina in CSL.
Rates from: $180
The details: Far-flung from Cabo San Lucas' scene and Medano beach — a problem if you plan to party, since local taxis are unreasonably expensive, a la Las Vegas — but minutes from San Jose del Cabo and a blessedly short haul to the airport, El Ganzo is posited on a chilled-out marina.
Arts rule at this 69-room hotel, with an artist-in-residence program, Tuesday movie series, concerts — 2016's line-up includes Los Angeles' Magic Giant and Mexico's Telefunka — and a 1,700-square-foot underground recording studio. Upgraded post-Odile, the 2,000-plus-square-foot rooftop infinity pool features Bali daybeds and a chance to hear music recorded on-site
-end
You may be interested in how to vacation Free in Cabo -
You can vacation virtually free in Los Cabos with your savings on medical or dental procedures. Get dental implants, crowns, veneers and elective surgeries by top Board Certified doctors in one of Mexico's premier medical vacation destinations.
For Free estimates visit: www.certifieddentists.org/
follow: cabo hotel news, cabo news, cabo hotel prices, cabo hotel deals, cabo vacation, los cabos resorts, cabo luxury hotels, cabo 5 start hotels, el ganzo cabo, los cabos melia, me cabo, david mandich cabo writer, david robert mandich editor, dental tourism mexico, medical tourism mexico, cabo dental vacation, cabo dentist, los cabos dentist, cabo dental, best cabo dentist, justin bieber, lady gaga,selena gomez, cabo hilton, los cabos hilton, cabo luxury hotels, cabo 5-star hotels, cabo resorts, los cabos resorts, hurricane odile, hurricane newton, cabo hurricane damage